Topic Summary
Posted by Kari on Feb 11, 2007, 4:12pm
We now have our Supergroup Base up and underway.
We are currently working on getting all the teleports up.

If you have time and are willing, you can try finding the beacons for each of the areas so that we can set them up.
This is starting with The Hollows as our next wanted teleport.

When you drop into the base, please deposit your spare salvage so that we can create the teleports and any gear needed.

If you have any ideas, please post them in.

Thanks

Posted by Kari on Apr 8, 2007, 4:29pm
Our sg base now has 2 teleports to Hollows, Perez, Skyway and Steel Canyon.

We have gathered beacons for Galaxy and Kings Row.

At the moment, the main objective is to gain prestige so we can make the base look better. It is at a basic state at the moment with the hospital and the tps but as our characters get higher levels, we'll want to improve our situation.

Keep heroing!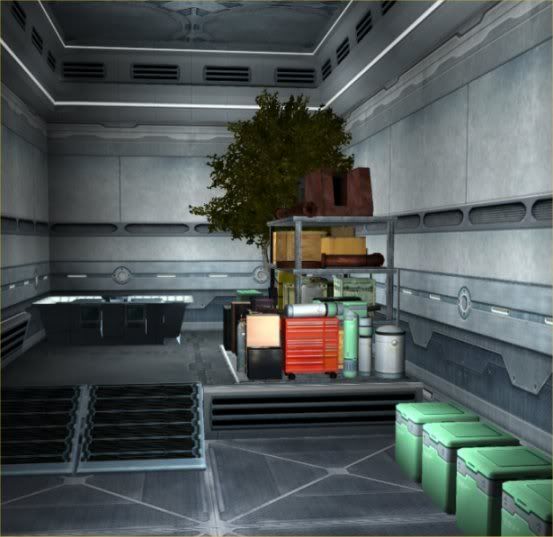 Posted by Mark on Apr 12, 2007, 1:05pm
Just wanted to add that we need around another 50k for workshop and table, and we'd still have some spare, so as Kari said, then we can just make it look better, and everything after that is tp pads till we either run low on space or need more power/control items.
Posted by Mark on Jun 13, 2007, 12:01am
So actually got another couple of TP pads in since this was last updated, 2 complete with beacons in one bay and another new bay with just the one pad and beacon currently (cashflow diminshed a bit, heh.) Think we got the control to support the next pad/beacons, but will then probably need more control before adding the final bay and TP pads for now, final as that's all our space allows for now, can upgrade, but will need alot more prestige and outside of some other TP's maybe and a bigger workshop for invention stuff, we don't need it just yet. So will be good to enjoy a fully functoning base and hopefully do some more recruiting for some regular members.
Posted by Kari on Aug 17, 2008, 5:55pm
We are currently trying to recruit new members to the sg who are active players so we can expand and improve the base. We need more control so that we can get all teleport pads and also more room for the workshop.

At the moment we had to replace a sg workshop table with an invention table as we cannot expand til we have more prestige. Once we have, there will be a change to the layout of the base where I hope to get all the teleport pads in the same area as well.

If you find anyone that wants to join, feel free to invite them. The more the merrier

Posted by Kari on Sept 4, 2008, 4:54pm
We have now made some changes and upgraded the plot. We now have inspiration storage and moved the tps so they are all off one another. We won't be putting them all into one room until we have more prestige to get control to support the teleport pads.
Posted by Kari on Sept 22, 2008, 9:27pm
We now have a teleport pad to Kings Row and Atlas Park. Only 2 more places to get the full set, that being Peregrine Island and Galaxy City.



We have also got a bigger workshop but it still needs more supplies so please keep earning prestige so we can outfit it better with all the storage you need.
Posted by Kari on Oct 22, 2008, 11:25am
We now have all the teleport beacons but need more energy and control to fully support the base. We'll be saving up to extend this and the workshop.